We left our home in New Jersey around 8am so that we would arrive at the Front Royal entrance of Shenandoah National Park around noon. After stopping off at a 7-11 for the bathroom and filling up the gas tank we paid our $30 entrance fee to Shenandoah National Park and began our drive along Skyline Drive. A $30 pass is good for a week.
We drove about 10 minutes an stopped at the Dickey Ridge Visitor Center that is located at mile post 4.6 and had a picnic lunch. Dickey Ridge has a picnic area but we decided to sit on a picnic blanket to enjoy the view since the picnic tables are in a wooded area. Although it was April, the temperatures were low so it was a chilly picnic. But the view was amazing.
After we finished our lunch we continued on our way along Skyline Drive toward out destination, Skyland Resort at mile post 41. It took about an hour to drive along Skyline Drive to Skyland Resort. There are pull offs with magnificent views every half mile or so and the speed limit is 35 mph, so it is a scenic but slow drive.
There is a tunnel called Mary's Rock Tunnel at mile post 32 that was covered in massive icicles. While it would have been nice to stop and admire them, I did not want to take a chance one would break free and smash through the panoramic glass sunroof on our car.
We arrived at Skyland Resort around 3pm. Their computer system was down so we were unable to check into our room. We took the kids to the playground to play while we waited for our room to be ready. Although it was April, at this elevation there was recent snowfall in the shade. We made a small snowman which was a novelty for April.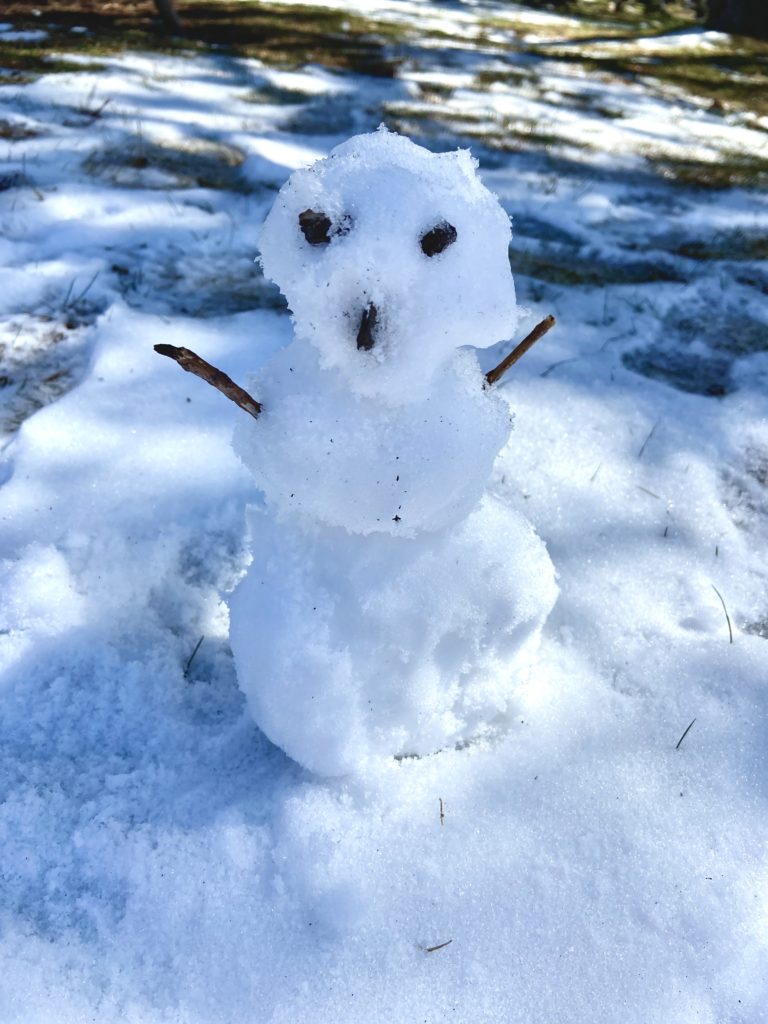 Once our room was ready we obtained our keys and drove over to the Shenandoah Building. We had a suite that consisted of rooms 69 and 70. On our previous visit we stayed in room 73 in the same building so we were excited to have the same amazing view again, but this time on the 2nd floor. The Shenandoah Building is the furthest building from the main office and dining room and requires a bit of a hike from the parking area to the front door, but the 270 degree view is definitely worth it.
We booked a suite because we wanted to be able to cook our own food in the room. Due to COVID-19 we didn't feel comfortable eating in the Pollock Dining Room for this trip. And with the reduced indoor capacity we assumed there would be a long wait for tables.
While a suite doesn't come with a full kitchen, it does have kitchen area with a mini-fridge, sink, and microwave. We stayed in the Shenandoah Suite (67/70) for the first night and the Winchester Suite (189/190) for the next two nights. This gave us a good comparison of these two popular and in-demand suites. The fridge in the Shenandoah Suite suite was larger and included a freezer compartment. The fridge in the Winchester Suite was smaller and had no freezer. The Shenandoah Suite has a small kitchen area that really only one person could fit in at a time while the Winchester Suite had a large blown kitchen area with a sit-down kitchen table. For some reason, due to COVID-19 the coffee maker was removed from the Shenandoah Suite but the Winchester Suite had a coffee maker. Since neither kitchen includes a stove, we brought small two burner electrical range as well as a pot and pan. Both rooms had amazing views, but if you're staying in the summer the Winchester Suite's views would be obstructed by the leaves on the trees while the Shenandoah Suite is on the 2nd floor and has a much more unobtrusive view. The Shenandoah Suite has two flat panel LCD TVs and the Winchester Suite had no TVs. Read more about our stay in the Winchester Suite in Shenandoah National Park – Day 2.
The Shenandoah Suite was quite large. In 2018 we stayed in room 72, directly below room 70 and 69 so we really appreciated the increase in size for less than $100 more a night. It was double the size of the standard room. The room had a full pull-out sofa bed that easily sleeps two and the bedroom has a kings size bed. For some reason this room is only advertised as sleeping three, but we had no issues accommodating four people. The room also has a massive wood-burning fireplace and Skyland Resort supplied firewood. There was also a box of matches and a firestarter than I assumed was provided by Skyland. However, when we moved to the Winchester Suite for the second and third nights no firestarters were provided, so many it was leftover from the previous guest. Needless to say, we brought our own firestarters with us, anyway. The balcony for the Shenandoah Suite was massive with views that stretched from Stony Man Mountain to the valley. It was April and we had unobstructed views of the sunset.
For dinner on the first night we cooked for the kids in the room and planned to get to-go from the Pollock Dining Room. This is where we ran into some difficulties. Due to the COVID-19 pandemic to-go orders have become more ubiquitous for restaurants… However, Delaware North, the operator of Skyland Resorts and the Skyland Resort restaurants has not seemed to get this memo. To avoid the Saturday night dinner rush I went to place a to-go order around 4:45pm. Upon getting to the Pollock Dining Room I found out that they only permit to-go orders from 5:30pm-8pm and with a very limited menu. The Tap Room which has many of the same menu items as the Pollock Dining Room was open but does not permit to-go orders. Instead I had to sit at a table in the Tap Room, order the meals, and ask for two boxes to take them to go. I also ordered a beer while I waited. The server apologized for management's asinine rules which he had no control over. I made sure to give him a 25% tip since it wasn't his fault. When I left around 5:20 with my food there was a massive line out the door of people waiting for the 5:30 opening of the Dining Room to sit down and to place to-go orders. They really need to accommodate to-go orders better during a pandemic.
I brought the food back to the room and we enjoyed our amazing sunset view from our own dining room table.
Read more about Shenandoah National Park – Day 2.